Are you looking for Car Respray for your vehicle?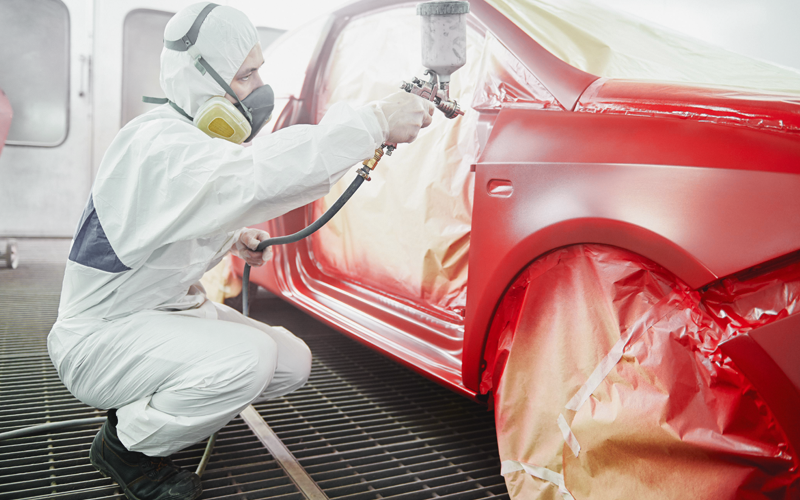 The exterior of your vehicle plays a vital role in enhancing the overall looks of your car and fetch a high resale value as well. Therefore, it is essential to maintain your car's body and get it repainted from time to time to mend minor damages and scratches. Tyre Fit Auto is the best place to get a full vehicle respray Leamington Spa at the best prices in the market.
What is a car respray?
The process of repainting a car's body with a combination of thinners and spray paint is known as a car respray. This service is performed by sanding your car's body using an electric sander to remove the clear coat and base coat of your car's surface. Once the vehicle is back to its bare metal surface, our experts clean it to remove any dust or debris.
The next step involves priming your car's surface with a high-grade primer to ensure even paint adhesion and glossy finish as well. Finally, once the primer dries and the surface is smoothened, you can choose from a variety of colours and paints available at Tyre Fit Auto. Our paints are customised to enhance the looks of your vehicle and provide it with an attractive finish.
Benefits of Car Respray
Brand New Looks
Experts at Tyre Fit Auto ensure an even paint adhesion on your car's body and removes the scratches and sun damage as well. Our different varieties of paints are guaranteed to give your car's surface a long-lasting and clear coat. This provides your vehicle with a shiny and brand-new look as well.
Cost-effective
Getting a car respray is a feasible and cheaper option as compared to car wrapping or powder coating. Moreover, you can also spend some extra amount on custom vinyl sheets and the expensive powder coats as well.
Increased Re-sale value
Respraying the surface of your car's exterior can help you get a much higher resale value. This is because our clear coats and paint provide your vehicle with a shiny or matte finish.
Reasons for a damaged car body
Inadequate car body wash
Using an inappropriate detergent or cleanser while washing your car is the main reason for scratches and abrasions on the vehicle surface. This is because detergents with high acidic nature can trap the dirt inside the sponge and damage the integrity of your vehicle's body.
Hitting rock debris
Your car may hit certain stones, debris, or lose tyre tread while driving on uneven and rocky road surfaces. This may create significant friction between the debris and car's surface that may cause scratches and abrasions on the car body.
Car Accidents
A car accident is a significant reason for denting, bent surface, rusting and scratches on the body of your vehicle. This happens because of sudden impacts and friction caused by colliding with poles, dividers, or other cars on the road.
Symptoms of car bodywork damage
Visible scratches and dents on the exterior of the vehicle
Vibrations inside the passenger compartment
Unusual noises from the bumper and doors
Visit Our Garage
Tyre Fit Auto employs the best team of experts that can provide you with a full car respray Leamington Spa in the minimum time possible. We operate from 8 am to 6 pm on weekdays, and 9 am to 4 pm on Saturdays.
For more information, feel free to contact us on 01926 334939, or email us at info@tyrefitauto.co.uk.